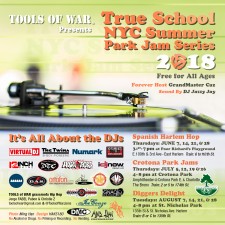 Location:
The BRONX and HARLEM
US
Peace! Our jams are free for the people but still cost $ to produce! We need your support to cover sound, security, event insurance, flyers, etc. All donations are greatly appreciated.
2018 Tools of War True School NYC Summer Park Jams is asking for the communities support to cover expenses like sound, event insurance, flyers/art, security, etc. for our free jams. Official fb event page and lineups here: www.facebook.com/events/255442468357712
Tools of War True School NYC Summer Jams
IT'S ALL ABOUT THE DJS
2018 DIGGERS DELIGHT @ The Concrete Plant Park: Bronx
Featuring DJs playing everything rare and nothing familiar!
Aug. 14: DJ Lord Finesse and more!
Aug. 21: DJ Rockin Rob, DJ Chuck City and more
Aug. 28: DJ Looie Loo and more tba!
Sound by DJ Jazzy Jay
Forever Host: GrandMaster Caz
4pm-8pm. Free! All Ages. @ Concrete Plant Park betw. Westchester & Bruckner Expressway Bronx. 6 train to Whitlock. On the beautiful Bronx River! www.bronxriver.org.
No drugs. No alcohol. No filming. Still photography is fine. No guests behind the ropes. No drama! No vending.
Sponsors welcome! Please contact Christie Z at toolsofwar@gmail.com
Please follow us on fb, twitter or instagram at @toolsofwarjams
Contact toolsofwar@gmail.com for more information!
Visit Website